Top 19 Maintenance Recommendations for Your Home
Creating a custom home is an exciting time. You're in the process of setting your family up for your future and have a unique opportunity to create something that's perfect for you. When you finally move in, you get to begin the process of turning a house into a home. During that time, don't forget to stay up to date with every day maintenance and care. Even brand new homes will need regular maintenance during the first year. To help you stay on track, here are 19 maintenance tips for your new custom home.
Interior Maintenance
While you won't need to do these things immediately, it's always good to keep a maintenance list handy and take preventative action early. Some actions are necessary after a month or so, while others can wait a bit longer.
1. Check and Change HVAC Filters
You don't necessarily have to clean or change your HVAC filters every month. Check your filters regularly and see how they look. If you don't have any pets, you will probably be able to get away with waiting 2-3 months. If you're unsure, change them just to be safe.
2. Clean Hood Filters
Hood filters commonly go unchecked, which quickly becomes a fire hazard. Use a degreaser to get off any bad buildup and consider adding this to your regular cleaning list to keep your kitchen safe.
3. Replace Batteries
It's important to make sure that you have working smoke and carbon monoxide detectors. A detector with faulty batteries won't be able to successfully do its job and keep you safe. Go around the house and test the devices. Replace any batteries and repeat the test. If you encounter any problems, call a professional to get it serviced or replace the device.
4. Clean Your Disposal
Garbage disposals do a lot of dirty work. It's no surprise that sometimes they emit a pungent odor. To combat this, use lemon and vinegar. The vinegar will eliminate the odor and the lemon will leave your kitchen with a fresh scent. For the best results, freeze vinegar in an ice tray, throw some in the sink, and run your disposal.
5. Inspect Fire Extinguishers
You should have fire extinguishers available in your house, just in case of an emergency. Make sure everyone knows how to use them, they're up-to-date, and they have enough pressure left to use if need be. Here's a great fire extinguisher inspection checklist to use.
6. Maintain Consistent Water Flow
If you have bathrooms or areas in your home that aren't frequently used, maintain consistent water flow by regularly turning on sinks or flushing toilets. This helps avoid build up and any plumbing damages.
7. Check Water Softener
Water softeners need salt to work, so make sure you're regularly checking levels. If the salt seems low, add some. If salt levels look good, check again in a month or two.
8. Deep Clean Your Home
Go through everything and give your home a good deep cleaning. Doing so will make sure that any dirt, dust, or grime comes off and doesn't create unsightly or stubborn stains. Deep cleaning your home will help keep your vents and filters clean while improving the overall air quality.
9. Vacuum Refrigerator Coils
A lot of homeowners go years without doing this, which can lead to higher energy bills. Since your refrigerator uses a substantial amount of energy, it's best to keep things running as efficiently as possible. Get a vacuum head that will fit, remove the bottom piece of your refrigerator, and clean the coils.
10. Check Your Water Heater
Every now and then, you will need to flush your hot water heater to remove any sediment. Doing so will prolong the life of the water heater and keep it working efficiently throughout the year.
Outdoor Maintenance
The exterior of your home is just important as the interior, if not more. Keeping things in good order will help you keep your home safe, and your property value high, for years to come.
1. Don't Neglect Landscaping
Go around your home and double-check your trees and shrubbery. If there are any low-hanging branches around your home, consider trimming them to avoid any problems with your roof. If there are any trees that look like they're interfering with cables or electric lines, call a professional to trim them to avoid any interference with your utilities.
We also recommend keeping shrubbery around your windows and doors clean and low enough to avoid concealing an entrance. When shrubbery extends past the window, it makes your home a target for break-ins, as it allows a concealed area for someone to enter. If you notice that your trees or plants are dead, remove them from your home.
2. Prioritize Lawn Care
Similarly, prioritize your lawn care. As a homeowner, your lawn communicates a lot about you. Taking care of it will help keep your property value high. Regularly cut and fertilize your lawn and rake leaves in the fall.
3. Consider Curb Appeal
Both landscaping and lawn care help boost your home's curb appeal. Take things to the next level by ensuring all of your lighting fixtures, doors, and windows are in good condition. Regularly clean everything and replace lights when they go out. Keep your mailbox in good condition and consider renting a power washer once a year to eliminate the build-up of tough dirt and grime.
4. Inspect Your Chimney and Roof
Your chimney and roof help keep your family safe throughout the seasons, so don't neglect them during your maintenance routines. Make sure that there are no cracked or missing shingles and that your roof's flashing is in good condition. If you regularly use your chimney during the winter, invest in a professional inspection yearly to combat dangerous creosote build-up. If you notice any signs of damage on your roof or chimney during the inspection, call a professional to take care of it before the problem gets worse.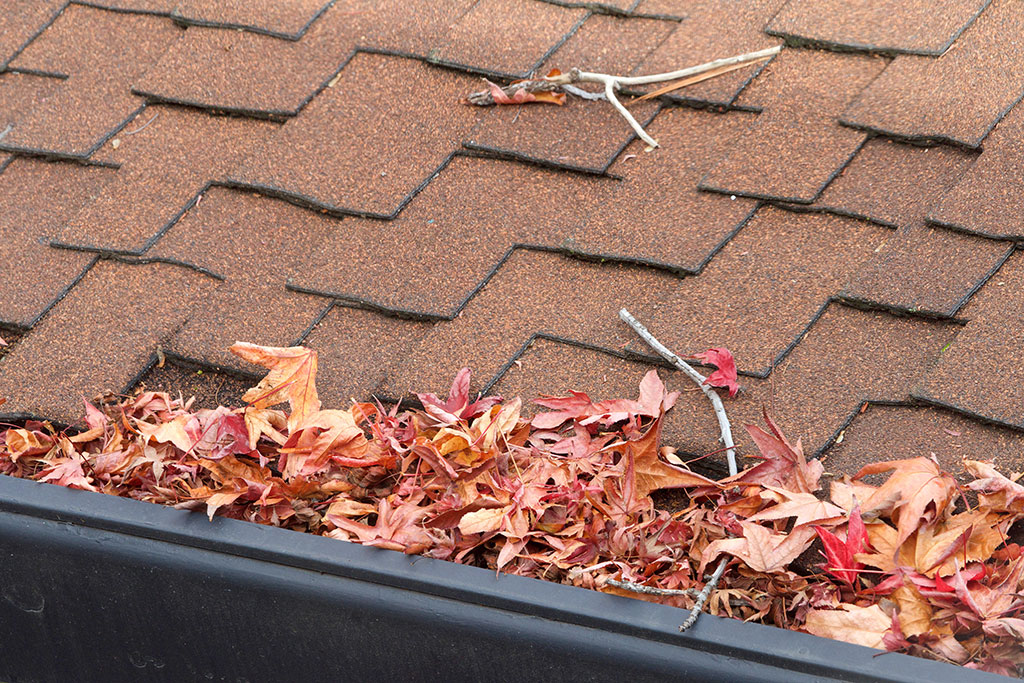 5. Clean Your Gutters
Cleaning out your gutters should be a regularly scheduled maintenance task, especially after severe storms or heavy rainfall. Grab a ladder and empty the gutters around the entire perimeter of your home to avoid leaks or damages.
6. Test Exterior Drainage
Even if your gutters look clean, the drainage might not be working properly. Test it by pouring water into your cleaned gutter and see if it drains out and away from your home. If it doesn't drain, you will need to clean the downspout. Once the water drains, keep an eye on whether or not it moves away from your house or puddles up in one spot. A puddle shouldn't stay around your home for more than 24 hours. If it does, you will likely need to call in a professional to avoid long-term foundational damage.
7. Check Window and Door Caulking
To keep your energy bills in check, both in the summer and winter, make sure that your window and door caulking is strong. Check for any drafts or areas where windows or doors aren't closing completely and re-caulk if necessary.
8. Test Your Garage Door
As a fail-safe, your garage door needs to have a working auto-reverse feature. This will eliminate any chances of accidents with pets, children, or valuables. Auto-reverse works using sensors that detect obstruction and cause the garage door to stop closing and return to an open position. Make sure to test this feature regularly and, if need be, change the sensors.
9. Clean Your Garage
Finally, pick a nice day and clean out your garage. The garage is often a place where things are thrown and strewn about in no particular order. Keep your garage clean and organized to help make regular maintenance easy throughout the year.
These great maintenance tips will help you care for your custom home for years to come. If you haven't built your home yet, there are a few things we recommend doing to ensure everything goes as planned. Most importantly, will need to select a builder carefully. Find a company, like TradeMark Homes, that's easy to work with, offers financial flexibility, and helps turn your vision into a reality with exceptional craftsmanship. You'll then need to investigate your area of choice, create a home plan that helps you build for your future, and work with a lawyer to finalize your contract.
Trade Mark Homes is committed to building your dream home using an enjoyable and stress free process. Our team will work with you from planning through construction to help turn your dream home vision into a reality. We also offer financial flexibility so you don't have to sacrifice any features in your new home. Our flexible home leasing options means you can move into your beautiful home on your terms, not those set by commercial banks or loan sharks.
We understand that the first step in building your new home begins with you. Fill out an inquiry form or call us today at 479-267-9900 to schedule a consultation, discuss your vision, and go over your budget.