Luxury Features to Implement in Your New House
Your home is a reflection of who you are, which is why more and more people are choosing to build custom homes rather than buy used. When you start looking around the market and creating your vision, you'll quickly realize that there are certain features that can be added to your home to create a luxurious, yet affordable living space. You don't have to be a celebrity to own a luxury home; all you need to do is implement a few features during your build. To get the most out of your living space, here are 11 cool luxury features to add to your new home.
Fully Loaded Kitchen
No luxury home is complete without a well-equipped kitchen. On a basic level, this translates to commercial-grade appliances, warming draws, sufficient outlets, and immaculate seating areas. Outside of your sitting room, the kitchen tends to be where most of the time is spent—it's the heart of your home. You and your family will spend hours in the kitchen, cooking meals, or conversing across the island. Designing a fully loaded, luxury kitchen is one of the most important steps in creating your new home's luxury feel. We recommend opting for high-quality, smart technology in addition to your commercial-grade appliances to really take things to the next level.
If you want to go above and beyond, consider adding an outdoor kitchen as well. This makes a great addition to any pool, cabana, or outdoor tennis court. Your outdoor kitchen doesn't have to be as extravagant as your indoor one. The best outdoor kitchens include a built-in bar, gas grill, small refrigerator, sink, and plenty of seating.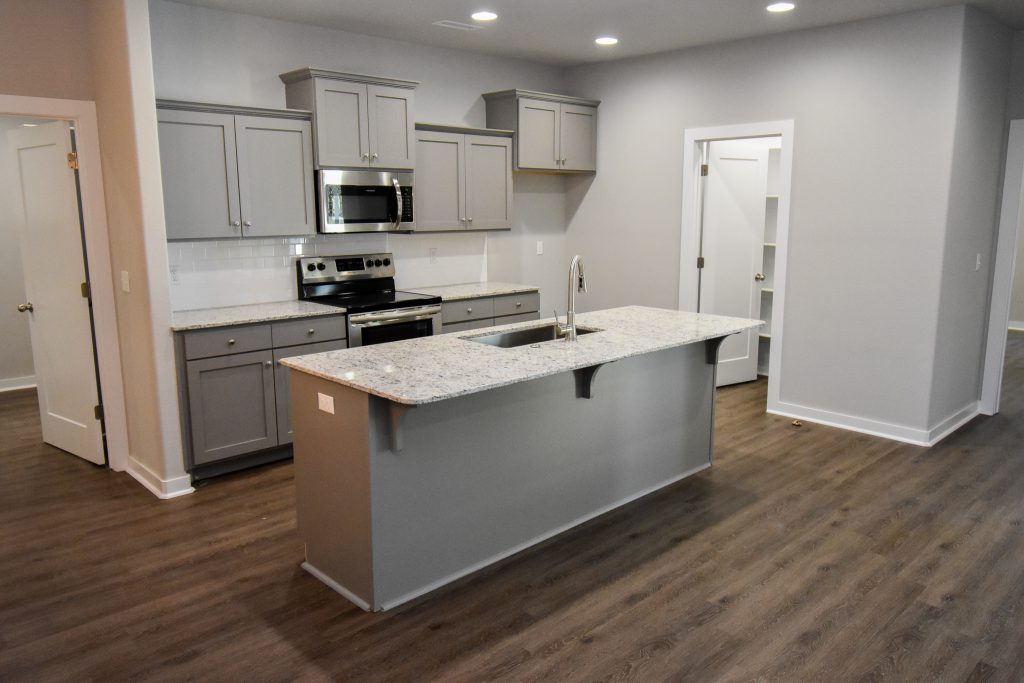 A Wine Cellar
In addition to a fully equipped kitchen, adding a wine cellar is one of the largest growing trends in luxury home design. Wine cellars don't have to be massive to make an impact. Instead, opt for a small room or even a designated refrigerator somewhere in the kitchen. If you plan on hosting events or are an avid wine enthusiast, this is one feature you shouldn't pass up. Just make sure you take into consideration the proper cooling systems required to maintain an optimal wine storage environment.
A Home Office
Work tends to dominate luxury lifestyles, but that doesn't mean you have to be stuck in an office all day. As work environments continue to evolve, more and more people are working remotely. Adding a luxurious home office boosts productivity and can be written off during tax season. As trends continue to change, people are building home offices that go above and beyond the traditional study. Aim for functionality and create a design space that will help you stay productive, even with your family in the other room.
Master Bedroom Spa Suite
While master bedrooms should be lavish and spacious enough to enjoy, the difference between a home and a luxury home is the bathroom. Master bathtubs used to define luxury, but as society has started to prioritize relaxation and stress reduction, more homes are turning towards creating a bathroom that mimics a luxury spa. This helps you unwind and relax at the end of the day, without having to leave your home. Freestanding bathtubs paired against large, open windows that boast a serene view are a great way to achieve this look. Don't forget to include large, walk-in showers with exuberant jets and towel warmers to complete the room. Check out these great tips on how to create a bathroom spa suite.
Master Closets
With your bathroom resembling a spa, the next step is creating master closets. This doesn't mean one, large walk-in closet. Instead, create separate spaces for both 'his' and 'hers.' Instead of opting for traditional closets, think of these spaces as a dressing room for each partner. Create custom nooks and crannies to store purses, shoes, ties, suits and dresses, work out gear, and jewelry. Don't forget to include mirrors and adequate lighting to double check your outfit before heading out. In the closet for women, consider adding a vanity so she can designate an area to complete her look. Even if you don't own high-end garments to fill these luxurious master closets with, you'll feel like you do.
Separate Laundry and Mudd Rooms
Having a space to keep all of your dirty clothes out of the way is imperative to maintaining an orderly home. Include a laundry room that separates your washer and dyer from the rest of the house to achieve this luxurious add-on. If you have any pets, consider installing a pet-washing station to reduce grooming costs and keep your loved one clean throughout the year. We recommend creating a laundry room near a side door so it can also be used as your home's mudd room. This is a great solution for keeping all of those dirty shoes and coats out of the way and in a contained environment.
Home Theater System
No home is complete without the ultimate place to relax and unwind after a hard day. While some people appreciate a good book, most of us tend to opt for zoning out in front of the TV. Home theater rooms are the perfect way to feel luxurious during your next Netflix obsession. No home theater is complete without a great surround sound system and a large screen. If you want to really take things to the next level, invest in a projector system and you'll feel like you're spending a night out at the movies. If you'd prefer other forms of entertainment, invest in some high quality gaming tables and create a game room or bar. Focus on creating a unique game room that accentuates your hobbies to create a wow-factor for guests and future homebuyers.
Built-In Technology
Technology has become an integral part of our lives. As it's continued to evolve, smart technology for homes has appeared. Almost any feature in your home can increase in functionality through the addition of smart technology. Consider installing a surround system that runs throughout the home, a virtual assistant like Alexa or Google Home, digitally controlled shower systems, heated floors, smart-blinds, ambient smart-lighting, kitchen appliances with built-in technology, or even universal touch-screen remotes for all of your home's needs.
Work Out Room
To really create a luxurious home, designate a work out room and fill it with top of the line exercise equipment. Rather than spending hours commuting to and from the gym to get in your workout, you will be able to sweat it out in private. Include full-length mirrors to check your form and built-in speakers for added encouragement. If you really want to take your work out room to the next level, consider attaching a spa or sauna for some post-workout relaxation.
Stunning Outdoor Living Areas
While many people tend to focus on the inside when building their luxury home, the outside shouldn't be neglected. Create a functional outdoor space that allows you to satisfy your hobbies or host large gatherings. If you love golf, add a small putting green. If tennis is your forte, install a tennis court. If you'd prefer hopping in the water at the end of a long day, design plans for an outdoor pool. Every home will be different, but creating something that tailors to your lifestyle is important and will drastically increase your satisfaction with your home.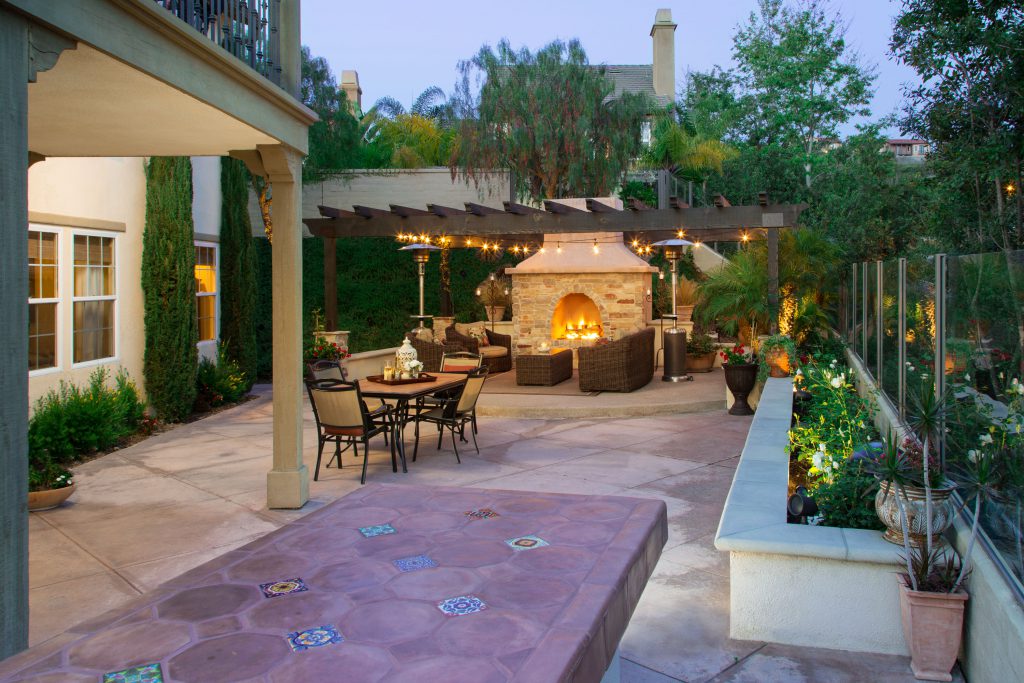 Prime Location
One of the best things about building your luxury house from the ground up is that you can pick a location that speaks to you. Finding a place that offers convenience and serenity is important, so make sure you take the time to research different areas or communities near you. Doing so is one of the most important things to guarantee that you'll fall in love, and stay in love, with your luxury home. Building a home in an area with a picturesque background is the perfect way to compliment all of the features of your luxury home.
At Trade Mark Homes, we make building your dream home enjoyable and stress free. Our team works with you from planning through every step of the construction process to make sure that you get the home you want, with exceptional craftsmanship. We're dedicated to turning the vision you have of your dream home into a reality by connecting with you to fully understand your lifestyle and needs.
If you're worried about financing options, we offer financial flexibility so you don't have to sacrifice any cool luxury features in your new home. Our flexible home leasing options means you can move into your beautiful home on your terms, not those set by commercial banks or loan sharks.
We understand that the first step in building your new home begins with you. Fill out an inquiry form or call us today at 479-267-9900 to schedule a consultation, discuss your vision, and go over your budget.